You probably know jerkmate if you browse adult video sites. It's one of the biggest adult webcam sites online, like Chaturbate, Stripchat, LiveJasmin, Bongacams, Camsoda, Cam4, MyFreeCams, Fapchat, Slutroulette….
Did you know that Jerkmate works closely with Streamate, so if you are a model on Streamate you will appear in the list of Jerkmate models by default, if you have activated the feature allowing you to be displayed on 3rd party Streamate sites.
On the other hand, what you don't know is that you can increase your visibility on the Jerkmate.com site by sending them Photos and Videos content or by promoting your room on Jerkmate.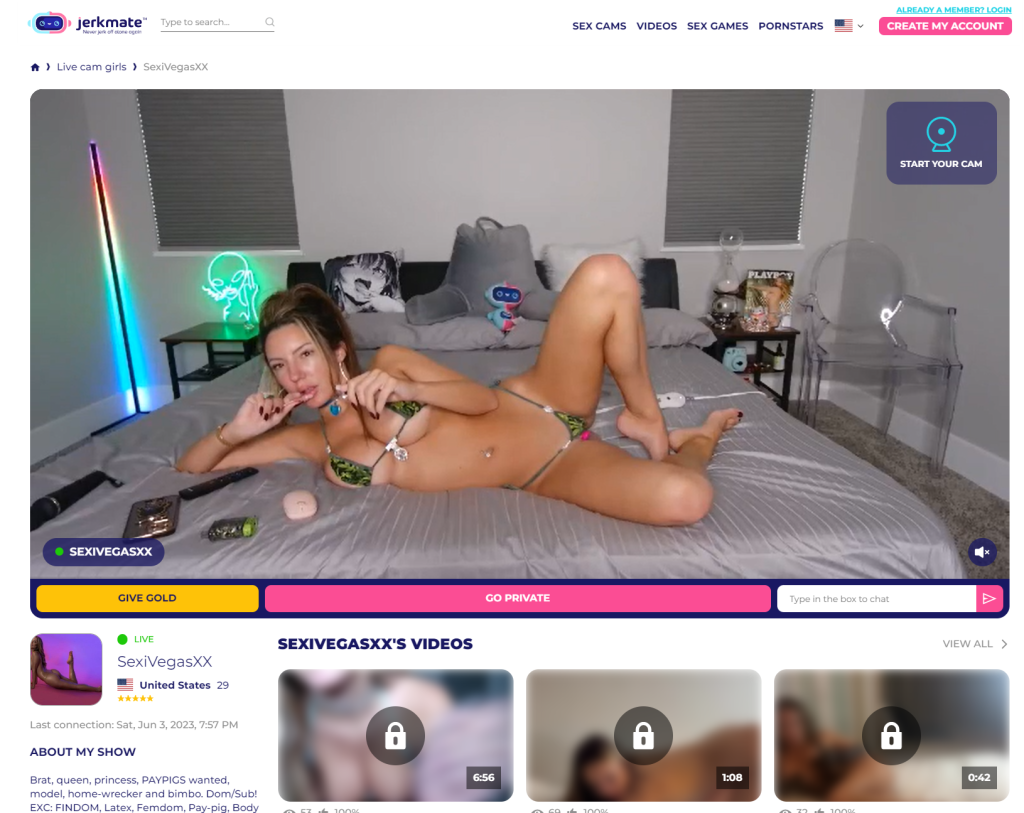 The Jerkmate site also has its own network of sites like Camsfinder, LivePornGirls, IchatOnline, etc… so by being a model on Jerkmate you will get a lot more sites promoting your room on Google. This reduces the visibility of sites that record your live show against your will. The Jerkmate network sends traffic to your room, you don't lose any customers.
Double your income as a model by also becoming an affiliate!
Usually when a model is live on a cam site, he or she will announce it on Twitter with a direct link to their room. You will therefore earn money if the customer spends in your room BUT the Jerkmate affiliate system will allow you to earn money on all expenses regardless of whether it is in your room or not!
Examples of Jerkmate models on Twitter announcing their show :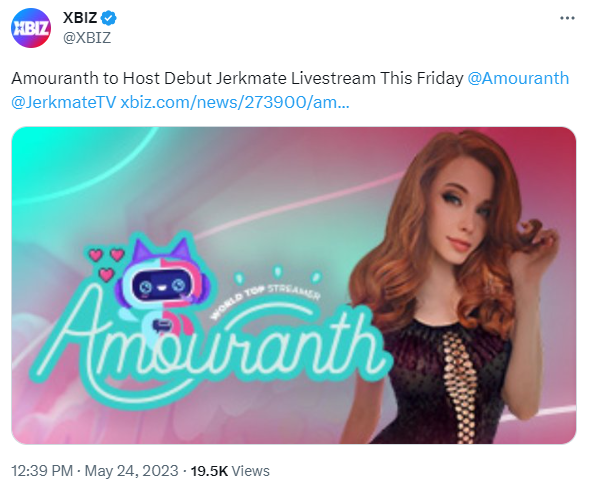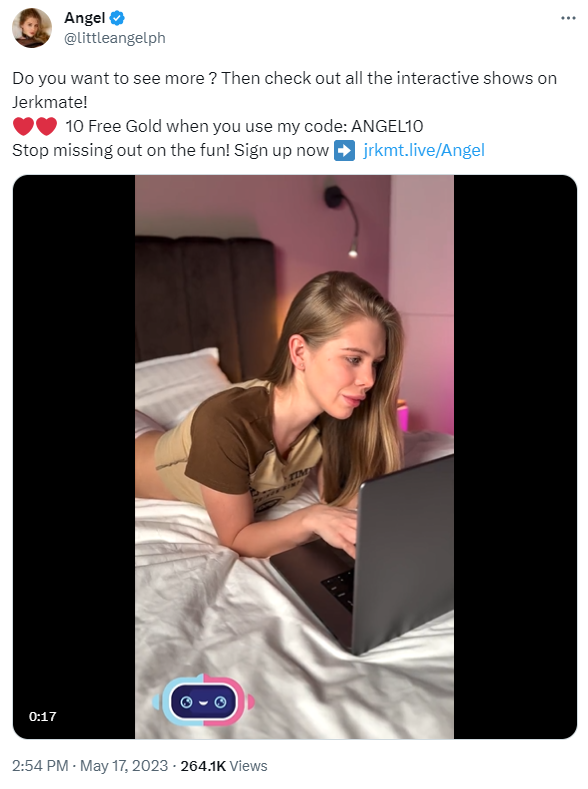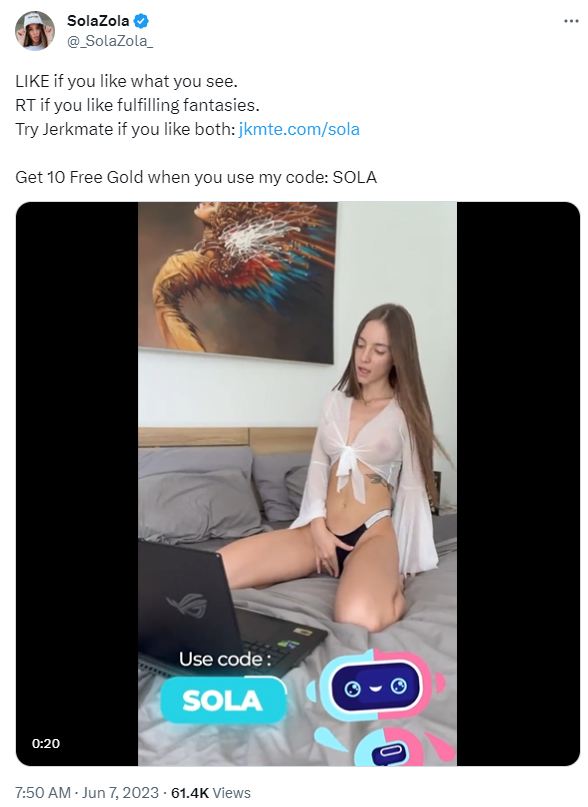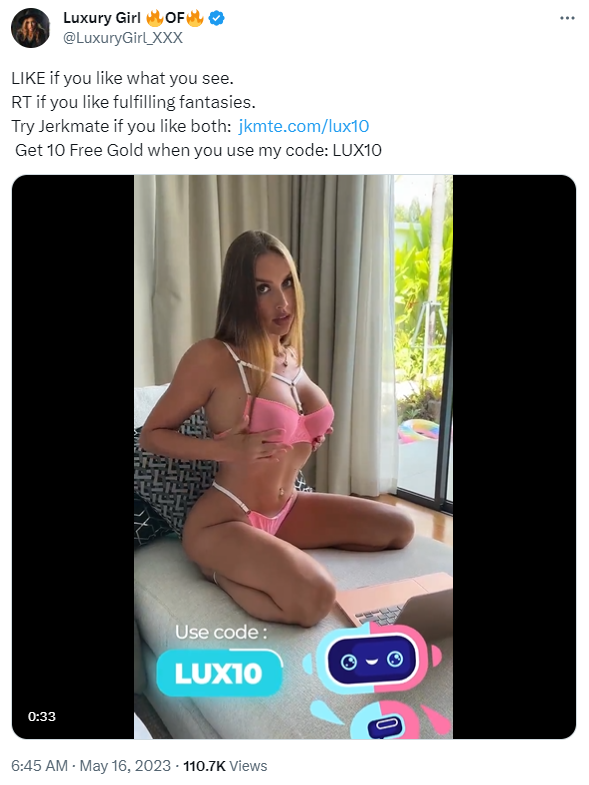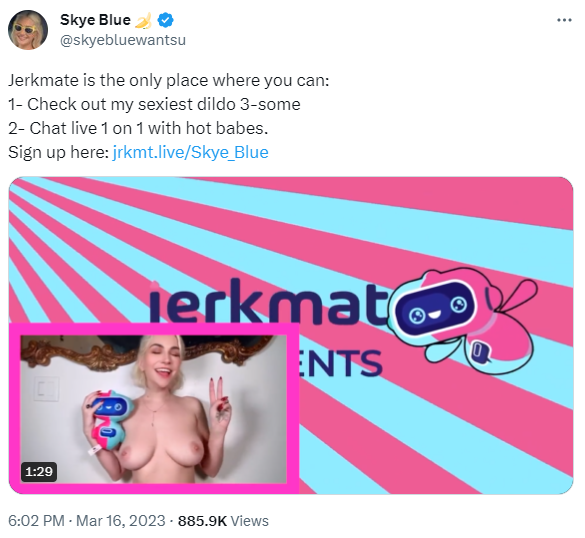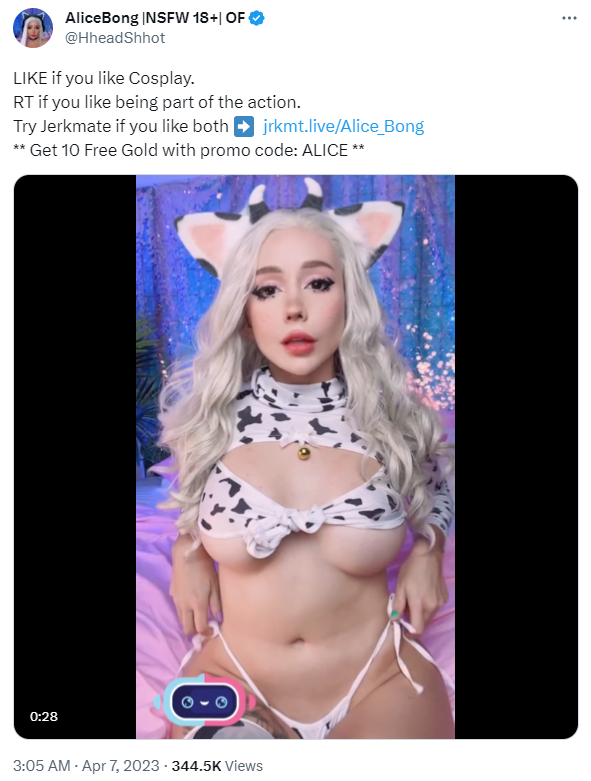 I see so many models promoting their room without adding their affiliate info in the URL, they're wasting a lot of money!
So here are the steps to become a model on Jerkmate and here are my tips to increase your visibility and thus multiply your earnings!
Create an account on StreamateModels to have a profile on Jerkmate.
As said before, Jerkmate is part of the Streamate network, so the first step is to register there as a model.
Follow the link here => https://jerkmate.com/become-model
What is StreamateModels?


StreamateModels is the official website and platform for models who want to perform on Streamate, an adult webcam site. It provides a dedicated space for models to register, set up their profiles, stream live shows, and interact with viewers. StreamateModels offers various features and tools to help models manage their accounts and optimize their performances. 
Some of the key features include:
Model Dashboard: The Model Dashboard provides an overview of a model's account, including earnings, viewership statistics, and important notifications. It allows models to track their progress, view payment information, and access various settings.
Profile Management: Models can create and customize their profiles on StreamateModels. This includes adding a bio, uploading profile pictures, setting show categories and tags, and specifying their preferences and limits.
Streaming Tools: StreamateModels offers streaming tools to help models provide high-quality live shows. It supports HD streaming, allows models to manage their audio and video settings, and offers options for interactive features like remote-controlled toys.
Chat and Interaction: Models can engage with viewers through the chat feature on Streamate. They can respond to messages, interact via audio or video, and offer private shows or exclusive sessions to viewers.
Payment and Earnings: StreamateModels provides a reliable and secure payment system. Models can track their earnings, set payout preferences, and receive regular payments based on their performance.
Support and Resources: StreamateModels offers support services for models, including a knowledge base, FAQs, and direct assistance from the customer support team. Models can access resources and guidance on improving their shows, increasing their earnings, and resolving any issues they may encounter.
How to open a model account on Streamate?
First of all know that you are going to need this:
Age verification: Streamate requires models to be at least 18 years old. Ensure you meet this age requirement before proceeding.
Prepare necessary documents: You will need to provide certain documents to verify your identity and age. Prepare a valid government-issued photo ID (such as a passport or driver's license) and any other required documents as specified by Streamate.
Here are the different registration steps:
Enter your email
Confirm your email
Fill in your information: Age, name, country, body description, gender, password…
Validate the agreement
Take a picture of your face
Take a photo of your ID
Scan a QR code with your mobile
Wait for account validation
Once your performer profile has been validated by streamate, you will be able to do your first show on Streamate and therefore your profile will be automatically created on Jerkmate with a URL like this, example of Amber Alena's Jerkmate profile: https://jerkmate. com/cam/amberalena
Now I will explain how to add your Jerkmate affiliate number in your URLs to promote.
How to double your income with FansRevenue and Jerkmate?
What is FansRevenue? FansRevenue is Jerkmate's affiliate program for performers and influencers.
To double your income, you will have to register on FansRevenue and ask to be able to promote Jerkmate.
Create your account: email and password
Confirm email
Pick your TOP social media account
Choose Jerkmate (FYI you can promote all cam sites!)
Grab Your Link
Open Funnel Configuration
Fill your model username (case sensitive)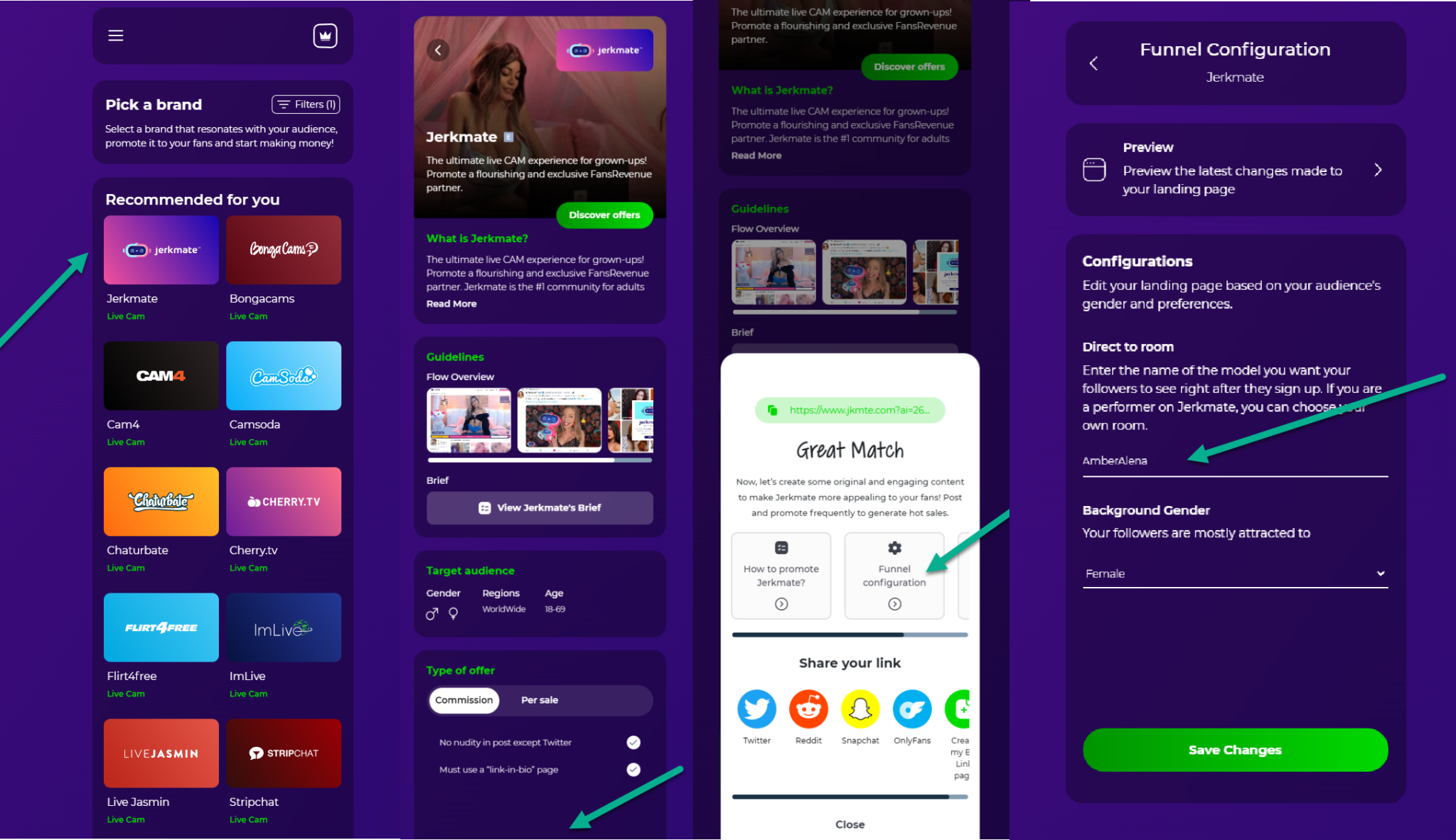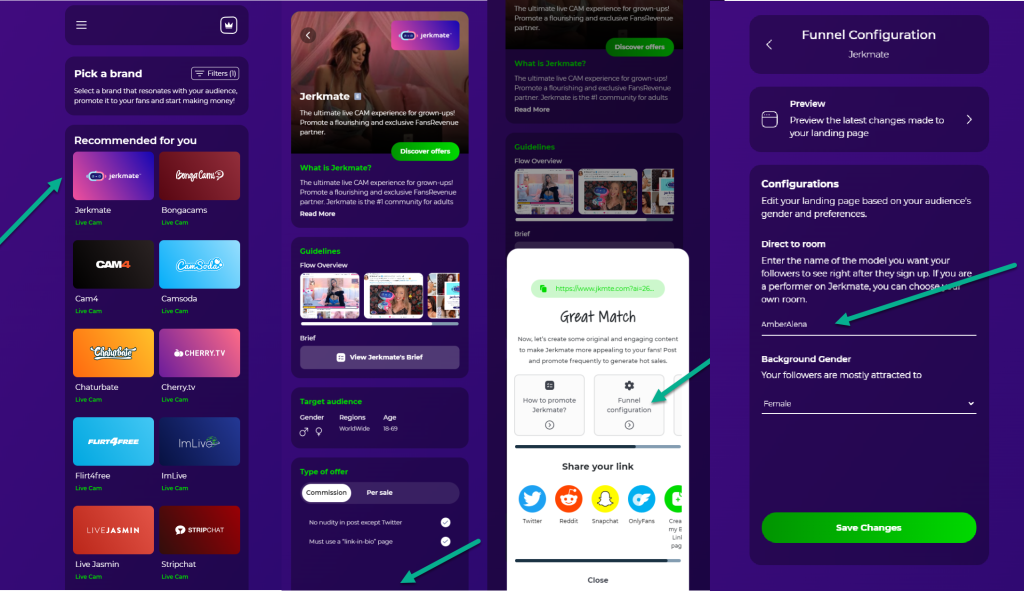 Now you have your Jerkmate affiliate link to copy and share everywhere! The landing is SFW, so you can use it anywhere without the risk of getting banned! Here is an example of a link, if I were the model Amber Alena: https://www.jkmte.com/?ai=269991&pname=AmberAlena&g=f


In summary
Here's how to become a model on Jerkmate and double your income by recruiting new clients via affiliation in addition to earning income as performers!
Create an account on StreamateModels
Create an account on FansRevenue
Share your link when you're live or put it in your Linktree, Allmylinks, MyEroLink….