Irresistible roleplay categories to satiate your sexual hunger
Do roleplays turn you on? If they do, then you're going to love this new Jerkmate feature!This is for people who've been fantasizing about getting nasty with particular characters. Apparently, you're all familiar with this type of set up, especially if you've been checking out roleplay porn movies on your favorite tube site.In a roleplay scenario, the cam performer can take any appearance they like to get your libido soaring through the roof!
So, whether you're looking for that teacher-student experience or doctor-patient action, this feature is for you. With the help of the roleplay page, you can fulfill your deepest fantasies from the safety and comforts of your own home.
Yep, that's right — this page comes with various categories you can choose from. This means you can be specific with what you really want.
The categories available are doctor, schoolgirl, dominatrix, housewife, and gamer. Each of these niches will offer you something you've been craving for so long. The performers will get your heart pumping and your temperatures rising!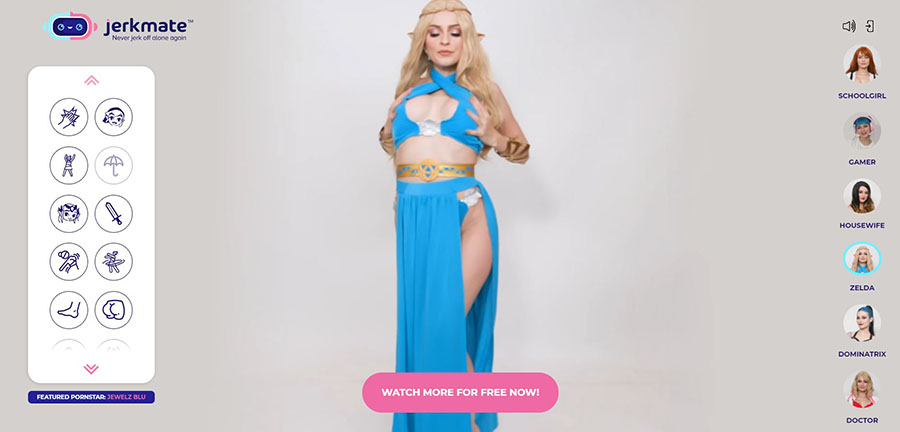 You can be a pervy patient having fun with a hot and sexy doc or a rich gentleman getting nasty with a Lolita-esque schoolgirl. Or maybe you'd want to submit to a dominatrix or just get wet and wild with an adorable gamer. Well, gamers are usually good at cosplaying so that would be so awesome, don't you think? The roleplay world is magical — so prepare to be taken to a whole new sex paradise to be whoever you want and fuck any characters you like!
There are tons of talented roleplay stars waiting for you on JerkMate's roleplay page. They're patiently waiting for you to hit the sign-up button, so they can start making your jerking fantasies cum to life!