Jerkmates Loaded with Live Cam Girls
You don't need to struggle to look for sexual pleasure while it awaits you at your convenience. Cam girls at Jerkmates is one of the incredible sites to check out if you need an ultimate sexual experience. It offers you endless sexual fulfillment by connecting you with the hottest pussies you can ever get. These babes are always hornier than you, willing to strip nude and rub their pussies on live sex cams. You get to meet your desired partners and make masturbation more fun. So, if you are obsessed with teens, blondes, Latina, big tits, big ass, ebony, and others, sign up today for exclusive sexual fantasy.
Cam girls Jerkmates is all about sexual fulfillment and entertainment. The naughty models on this site are willing to do anything just to make you quest for orgasm. You can enjoy many experiences here, including nude games, naughty chats, role play, and a chance to command your jerk mate to do your will. You can ask them to masturbate, suck their tits, bend over, wet their asses, or any other command, and they will be ready to obey. Therefore, this experience is breathtaking and can only get better if you sign up. You will no longer jerk off alone!
Features of Cam girls, Jerkmates
Easy to sign up
Signing up at Jerkmates live webcam girls is easy and fast. As long as you are 18 years and above, you can just hit that sign-up button and get ready to go. There are no hidden charges or subscriptions. You are free to interact once you sign up. There is a guaranteed ultimate experience 24/7.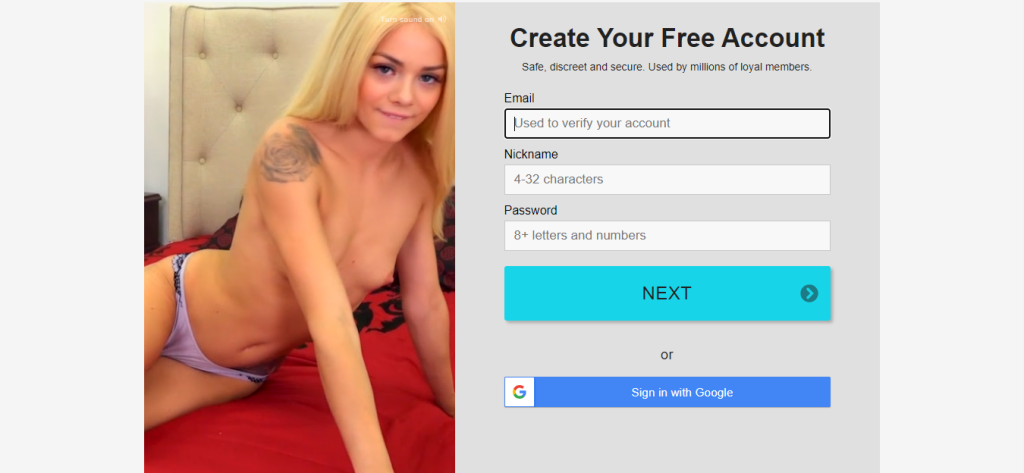 No ads
Ads can be so annoying. They slow down the site and can affect your live sex experience on the site. Imagine jerking off, and an ad pops on the screen, spoiling the entire moment. Spoiler! This site is ad-free, meaning you can have your sexual experience uninterrupted.
Hundreds of live cam girls are available
There are hundreds of women available at cam girls waiting to jerk off. These girls are always on live, waiting to put their dildos to work. Regardless of your schedule, you can always find someone to entertain you on this site. A huge advantage with Jerkmates is that you can get any woman of your dream, whether old or young. All types of women are available to give you the sexual satisfaction you seek.

Easy to navigate
Jerkmates is one of the simplest sites available on the internet. As soon you sign up, there are no complicated procedures before you start meeting naked blondes in real time. At the same time, this site provides unlimited access to porn videos you will enjoy. You also have an opportunity to learn more about these sex performers, including their history and their current professional and personal lives.
Why choose Jerkmates?
Jerkmates cam girls ensure you don't jerk alone. It graces your screen with the most experienced porn stars and amateurs of your dreams to entertain you. You could be wondering what advantages you will get by using this site. These reasons explain why you should choose Jerkmates ahead of others.
One-time click
At cam girls, with just one click, you get connected to a woman of your preference. This happens when you visit the site. The potential partners appear on the screen, ready for selection. You can easily browse based on pictures that interest you and select a girl you feel will give you a fulfilling sexual fantasy. Once you click, you will find her waiting for you, ready to drive you crazy with her hot pussy. You can choose to create an account to have a more engaging interaction.
Free account
Do you know you can still have a thrilling sexual experience with a free account? You can interact with your athletic model and jerk off together for free. With a free account, you can watch your favorite girl on live cam and enjoy a free experience.
Messaging
You can also send them a message while watching their live stream. Messaging is an important feature that makes communication between you two more interactive. Perhaps there is a noisy background, or the sound is not loud enough. You may also feel shy to talk with her. These challenges should not stop you from pursuing your fantasies. A single message is enough to send her a command to which she will happily comply. For example, you chat with your model instructing her to expose her juicy ass. She will receive the message and do as you ask.
Access to models information
Here at cam girls, you can get specific data about your virtual sex partner. You can view some of their personal information such as age, language, the period they have been doing live cam sex, and what excites them. This information is vital as it allows you to choose the lusty woman of your liking. If you prefer older women, you can easily point them out by reading through their profiles. Such an aspect is vital for your sexual fulfillment.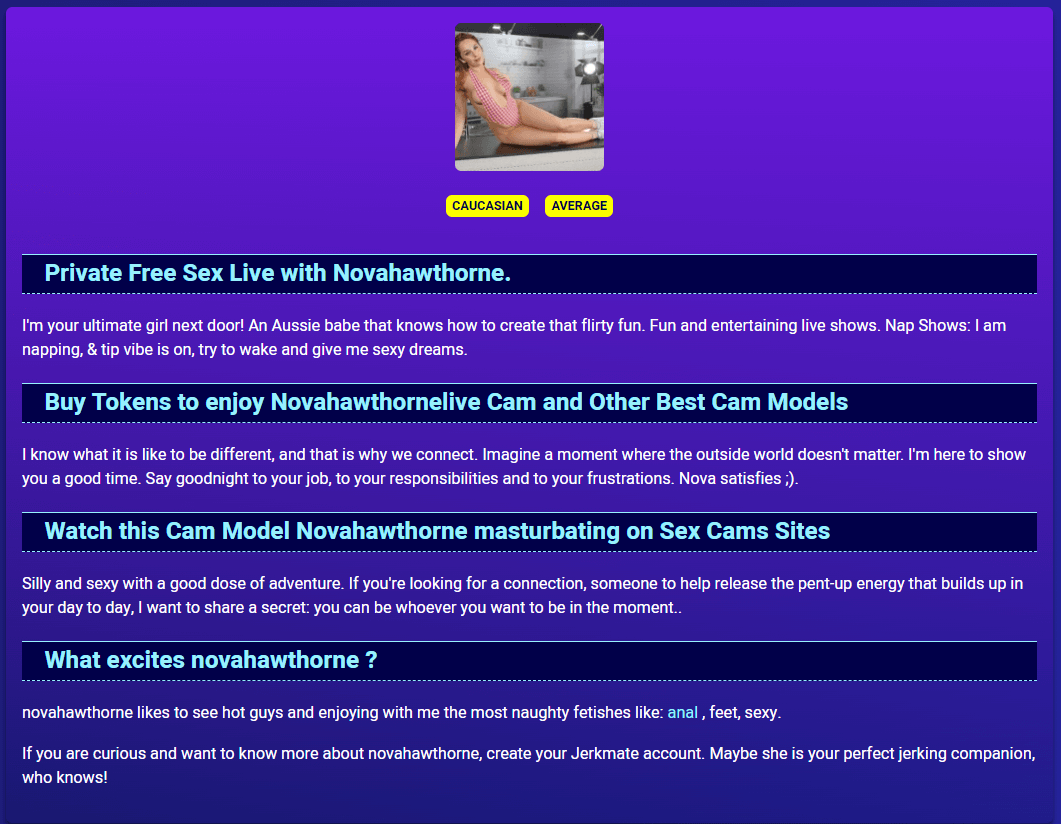 In conclusion, you don't need to experience a sexual dry spell while hundreds of cam girls are waiting to entertain you. At Jerkmates, you get a virtual sexy partner with whom you can masturbate together. Such experience is worthwhile and can give you the fulfillment you have long desired for. There are all types of girls on this site. There are also all types of men ready to entertain you. You only need to select the sex partner you always fancied and start the sexual experience journey.