See Jerkmate Amouranth's profile
Who is Amouranth?
Amouranth (real name Kaitlyn Siragusa) is an internet personality, livestream performer and content creator. Amouranth gained popularity primarily on Twitch, initially focusing on Cosplay and Body Painting stream shows. Born on December 2, 1993, in Houston, Texas, Amouranth often streams live videos, where she interacts with her audience, plays video games, teases and engages in various activities.
Over time, Amouranth has diversified her content and has become known for her IRL (In Real Life) streams and videos, chatting, and ASMR (Autonomous Sensory Meridian Response) streams. This sexy redhead girl has a big following on Twitch, with millions of followers, and has also built a substantial presence on other social media platforms such as YouTube, Instagram and OnlyFans.
Amouranth's hot livestream content has sparked discussions and controversies at times, particularly regarding the boundaries of appropriate content on mainstream platforms. However, Amouranth continues to maintain a large and dedicated fan base.
The precision and meticulousness displayed in Amouranth's cosplay shows have captured the interest of the community, earning her worldwide recognition.
Amouranth's Unique and Captivating Streamer Style
Amouranth experienced a significant surge in popularity when she transitioned from traditional cosplay to video streaming on platforms such as Twitch and OnlyFans. Through her live video shows, Amouranth not only showcased her cosplay skills but also captivated viewers with her unique streamer style, engaging personality and entertaining demeanor.
Her sexy live video streams became a fascinating blend of video gaming sessions, creative endeavors, sexy tease videos and real-time interactions with her audience. They quickly evolved into a vibrant community where fans could connect, engage, chat and share their mutual love for gaming and cosplay.
As Amouranth's influence and fame grew, she expanded her content to encompass a wide array of genres. In addition to her gaming and cosplay shows, Amouranth incorporated various livestream elements such as fitness routines, ASMR videos, and live music performances into her video streams. This versatility allowed Amouranth to reach a broader audience and establish herself as a multi-talented streamer and content creator.
Beyond her online presence, Amouranth ventured into various entrepreneurial pursuits, leveraging her popularity to explore new avenues. Amouranth successfully launched her own merchandise line, featuring branded clothing and accessories inspired by her extensive repertoire of hot livestream cosplays. Amouranth also provides exclusive semi-nude content and behind-the-scenes access to her fans through subscription-based porn platforms like OnlyFans.
Amouranth's remarkable success can be attributed not only to her captivating content and sexy appearance but also to her astute business acumen and adaptability to the ever-evolving landscape of the digital entertainment industry. This All-American redhead girl has transformed her passion for cosplay and content creation into a flourishing career, amassing millions of followers across multiple mainstream and porn platforms.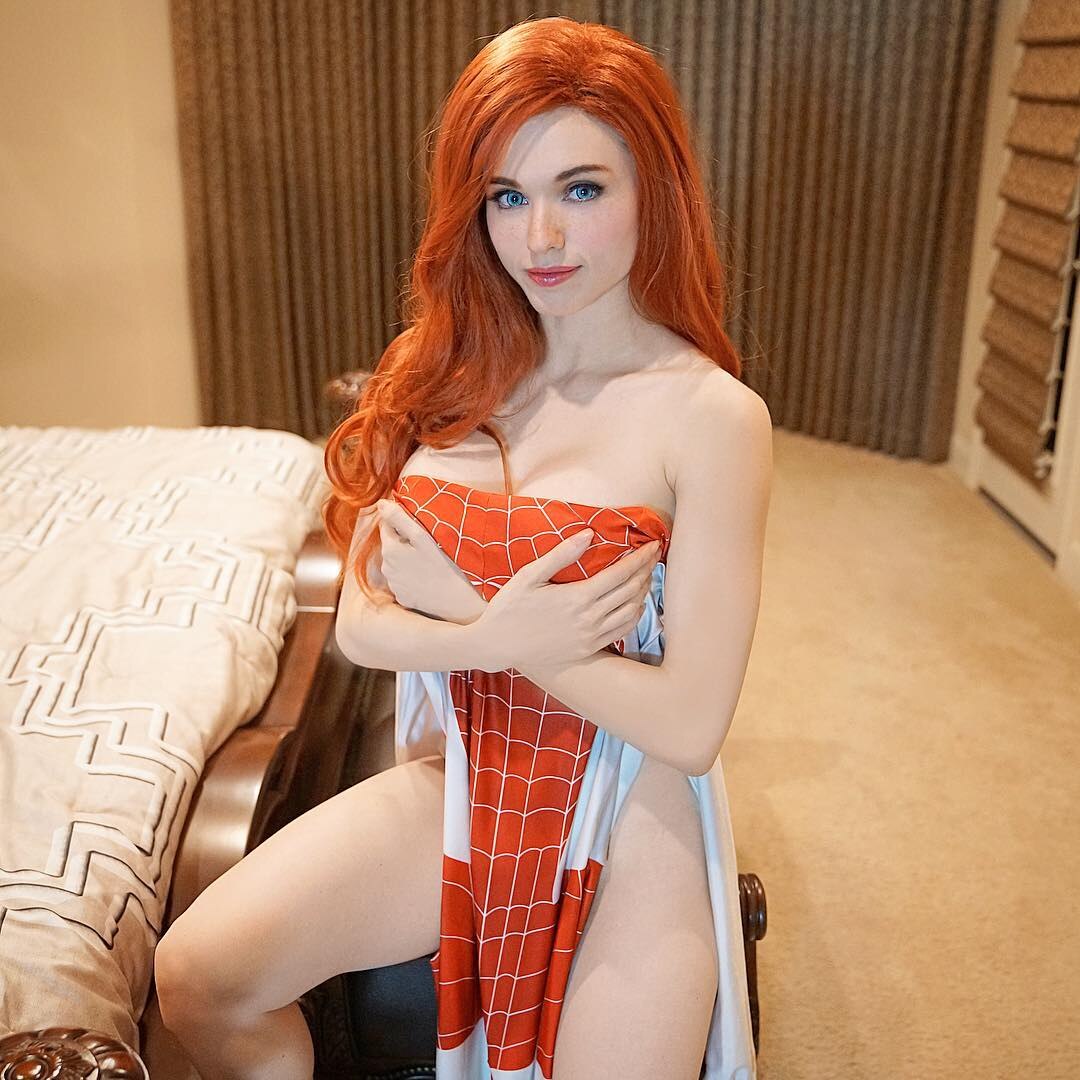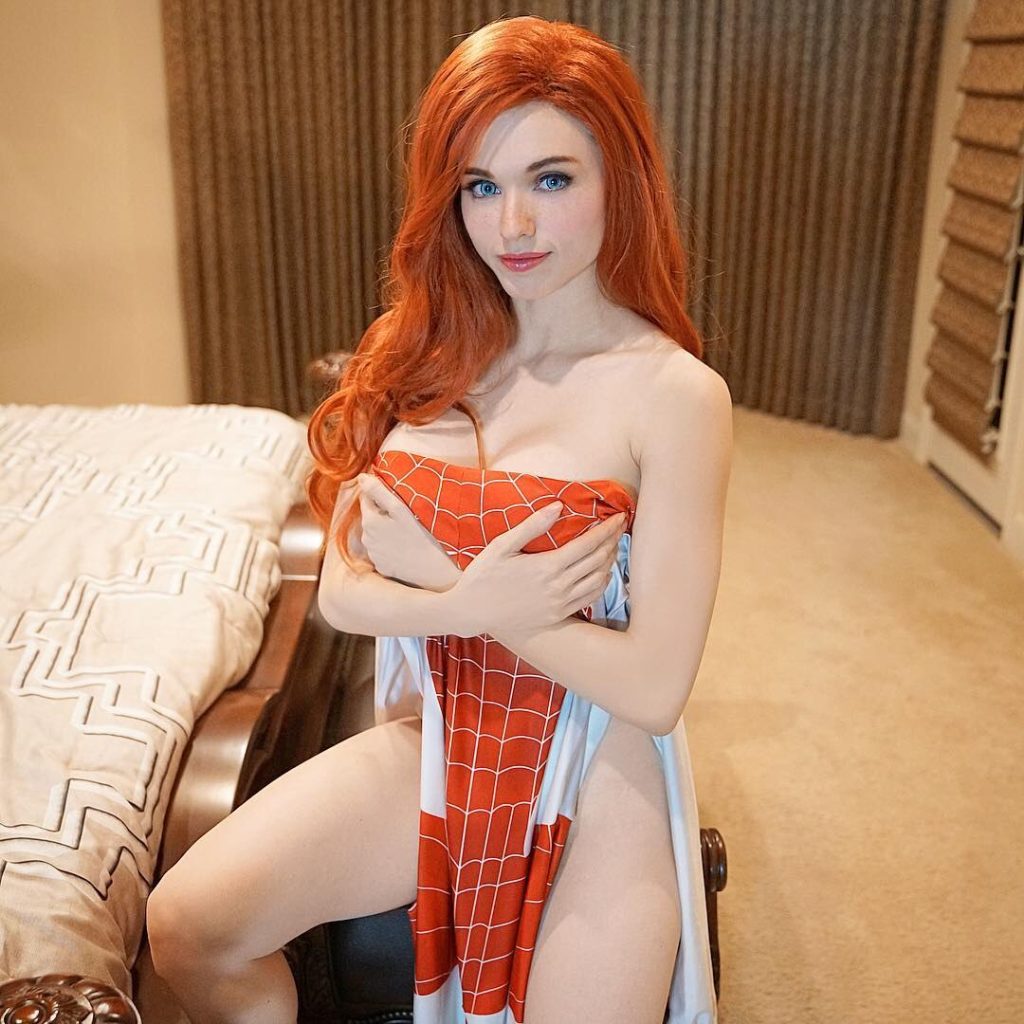 Hot Redhead Girl is the Perfect ASMR and Cosplay Tease
Amouranth's live performances have garnered considerable attention and stirred up controversy within the online sphere. These free shows feature a combination of interactive elements, including semi-nude dancing, role-playing, ASMR, and cosplaying, which have elicited both admiration and criticism from various corners of the internet.
During her live videos, Amouranth often wears provocative outfits, delivers diverse dance routines, and engages with her audience in playful and interactive ways. A pivotal moment in her career came when Amouranth introduced her Hot Tub meta shows on Twitch. While some viewers appreciated the creativity and entertainment value of these performances, others accused her of exploiting her sex appeal (big boobs and pretty face) for views and financial gain.
In 2021, Amouranth encountered backlash and controversy when her Twitch account faced temporary suspension due to violations of the platform's livestream guidelines on sexually suggestive content. This incident ignited a broader discussion regarding the fine line between creative expression and sex exploitation within the streamer community.
Despite the controversies surrounding her livestream performances, Amouranth has displayed resilience and continues to connect with her audience through various social media platforms and porn platforms like OnlyFans.
Amouranth has greatly impacted the online entertainment industry through her hot content, alluring personality, big boobs, fiery red hair and entrepreneurial drive. With her inventive cosplays, interactive livestream videos, and controversial performances, this redhead girl has carved out a distinct niche for herself, capturing the attention and fascination of millions of international viewers.
Amouranth's ability to seamlessly blend gaming, cosplay, and real-time interactive performances sets her apart from other content creators, positioning her as a trailblazer and influencer among online streamers.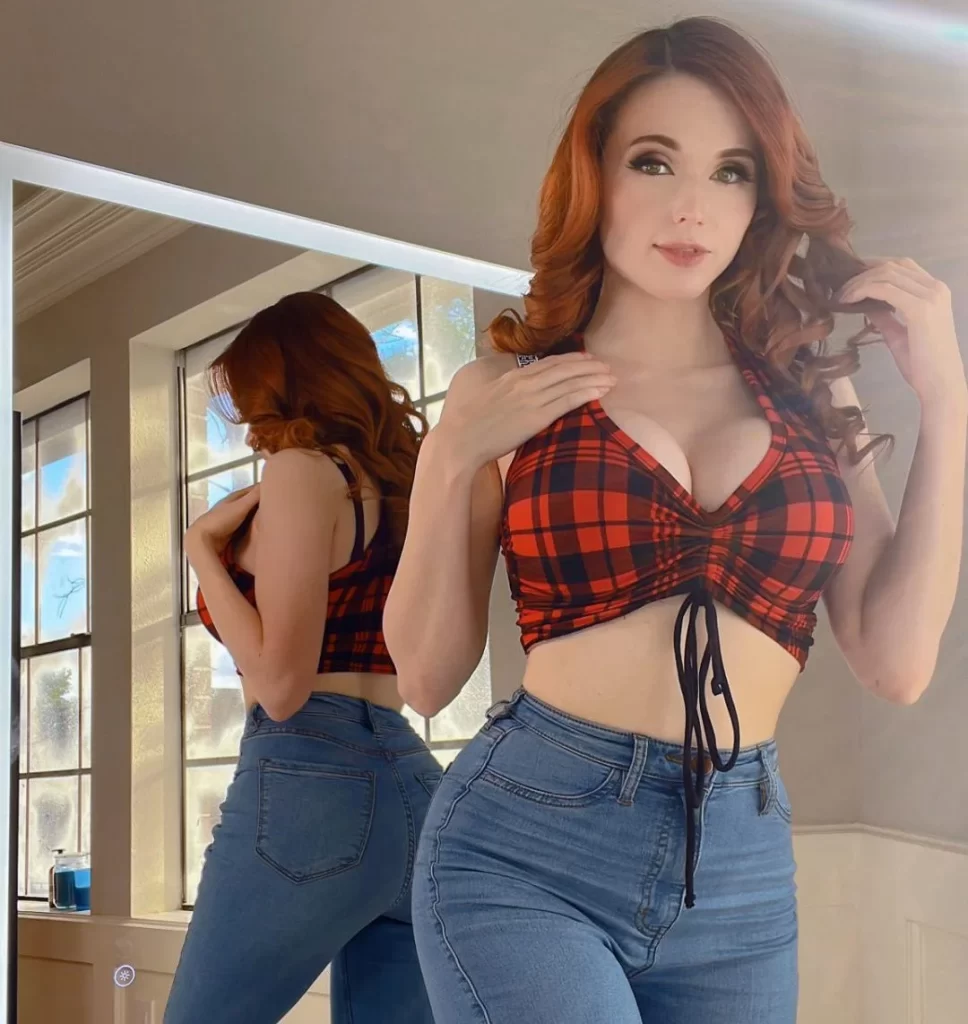 What to Expect from Amouranth on Jerkmates
We're proud to announce this exciting addition to our roster of hot performers: Amouranth – the renowned Twitch and OnlyFans sensation – is scheduled to host live video shows on Jerkmates!
Yes, you read that correctly. The world-famous, big-boob redhead beauty will appear on our porn cam site to perform live on webcam. Prepare yourself for the next thrilling chapter in livestream performances.
This sensational premiere launches the start of an extraordinary series of exclusive live shows featuring the illustrious internet personality. These uncharted shows promise to be an enthralling biweekly affair, ensuring a compelling rendezvous on the platform you will not want to miss.
Amouranth's transition to Jerkmates opens up an exciting opportunity for fans and followers to forge a deeper connection with this sexy redhead girl. Watch her show off her body, chat, cosplay, do ASMR and show off her perfect big boobs.
Join Jerkmates and experience the thrill of interacting live on webcam with one of the most popular and sexiest streamers in the world.